Master Digital Business Systems (Master of Science)
The consecutive master's programme over three semesters is designed for graduates of bachelor's degrees who want to get to know more specific scientific and practical methods after their first degree that qualifies for a profession. This degree programme was launched in the summer semester 2007. It was accredited by ASIIN in December 2008, re-accredited in April 2014.
What our students say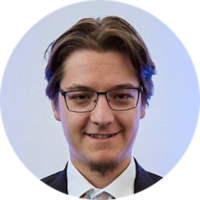 Sebastian K., 3rd semester master's in Information Systems
For me, the master's studies in Information Systems at FHWS are a good addition to my studies of Computer Science. I can not only deepen my specific computer science knowledge, but also acquire a broad range of knowledge about business/economics and management which is the perfect preparation for my future career. Despite the broad approach, FHWS gives me the opportunity to specialise and get a deeper knowledge by offering elective modules. The marvellous new building as well as the friendly interaction with the professors of course support the acquisition of knowledge, too. All in all, I can absolutely recommend this master's programme to all who want both deepen their specialist knowledge and broaden their minds.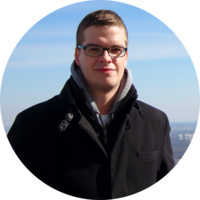 Simon Lichtinghagen, 3rd semester master's in Information Systems
The Information System master's is the perfect addition to the bachelor's studies. Built upon the bachelor's programmes of the Faculty of Computer Science and Business Information Systems, the Information System master's offers a deeper insight into both academic work as well as social and business information systems. But you also acquire a sound knowledge about the technological basics of these systems. Students can always adjust the programme to their personal preferences with the help of the many elective modules on offer. Additionally, there is comprehensive equipment related to virtual reality, augmented reality and Internet of Things available to students. Usually the courses are seminar-like with not too many participants so getting a good relation between students and lecturer is pretty easy. Above all, you will study centrally at one of the most modern FHWS locations.
---
Overview
Full-time studies for three semesters in German with optional modules in German and English.
There are about 25 places per year available.
During the programme, a total of 90 ECTS credits must be achieved.
FHWS location: Sanderheinrichsleitenweg 20 in Würzburg
Studies can be taken up in the summer semester (15 March) or winter semester (1 October).
Degree: Master of Science
International activities
Students get the opportunity to take part in a field trip abroad.
Several core elective modules are taught in English.
After their 1st semester, master's students can go to a partner university abroad to study.
Requirements
Undergraduate degree in the field of computer science, business informatics/business information systems or a related programme with a degree grade of at least 2.5 or higher.
Proof of necessary English language skills at the level B2 in accordance with the Common European Framework of Reference for Languages (CEFR).
For more information, please refer to the Department of Student Affairs (HSST).
Your contact there is
Hochschulservice Studium
Telefon: 0931-3511-6139
E-Mail: shl.hsst[at]thws.de
For more information about an application, please refer to the website of THWS.
Application
Please follow the link to get to the pages of the Department of Student Affairs (HSST) on the main page of FHWS. Among others, they handle applications and the enrolment.
In addition to information related to application and studies at THWS, you will also find information on the online application.
Please note the application periods!
Summer semester (15 March): 15 November through 15 January
Winter semester (1 October): 1 May through 15 July
If you have any questions about applications, please contact
Mr Sebastian von der Weide
phone 0931 3511-6139
e-mail sebastian.vdweide[at]thws.de
Programme structure
The curriculum of the Digital Business Systems master's consists of the following modules:
six core modules from computer science, business informatics and E-commerce
one module on theories of science
one module on social and leadership competence
one academic seminar (Wissenschaftsseminar) and the master's thesis
Questions?
The programme director is responsible for
devising and further developing the programme's contents;
verifying the course contents in consultation with the module managers;
monitoring the compilation of module descriptions and study plans.
Contact: Prof. Dr. Karsten Huffstadt