Parenting room in room I.3.18
This room has a dual use: it is the parenting room as well as a study room. In general, the room is available to all students of our Faculty as study room and to both staff and students with child at THWS as parenting room.

In order to reconcile studies, work and family life more easily, the parenting room is intended to enable THWS members to bring children to FHWS, breastfeed them and supervise them themselves. Pregnant students and staff can use the parenting room as resting room. Facilities to change diapers are not only in the wheelchair-accessible toilet on Level 1 (I.1.37), but also in the ladies' toilet on Level 3 (I.3.33) and in the men's toilet on Level 2 (I.2.26).
Impressions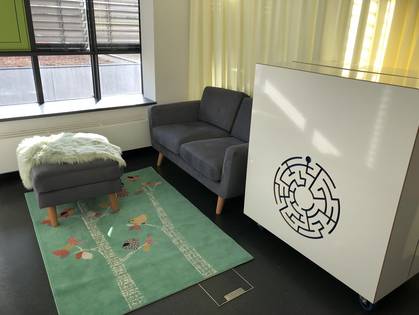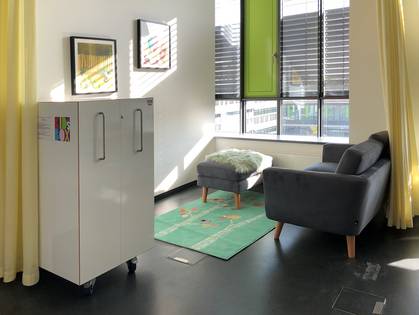 Use and access to the room
Access to the parenting room can be requested at Facilities Management (HSGM) (e-mail hsgm@thws.de, phone 0931 3511-8888). Please use the request form (only available in German). Please provide a document that proves your pregnancy or your parenthood (birth certificate).
Excerpt from the room regulations
If a breastfeeding mother, a pregnant woman or parents with a sleeping child are staying in the room, the users of the study room are asked to stay quiet and show consideration for the situation. In exceptional cases (e.g. if special quietness is required during breastfeeding or when the child should fall asleep), the students could go to other areas on the same floor, if possible.
The users of the parenting room ensure the careful treatment of its equipment and furniture. No objects may be removed from the parenting room. The equipment taken from the KidsBox (a cabinet with baby equipment) must be put away again and the KidsBox must be locked again. The parenting room must be left clean and tidy, the lights switched off, the windows and the door must be closed in such a way that unauthorised person cannot enter the room.
Smoking and alcohol is strictly prohibited. The care of children with infectious diseases (such as chickenpox, mumps, measles, scarlet fever, rubella or lice) is not permitted in the parenting room. Parents and other users with infectious diseases or in an alcoholic state are also not allowed to enter the parenting room.
The use of the couch and KidsBox is intended for parents and pregnant women. Students who use the room as a study room may use the couch for normal purposes, but not permanently, even if the area is not used by parents or pregnant women.
Contact
Facilities Management (HSGM) (phone 0931 3511-8888)
Complaints in the case of violations against the room regulations can be made to the women's affairs officer of the Faculty of Computer Science and Business Information Systems, Prof. Dr. Isabel John, room I.3.37.Opens internal link in current window
Additional Information
Parenting rooms are also available at other THWS sites.