Intelligent bin through Deep Learning
What's it about?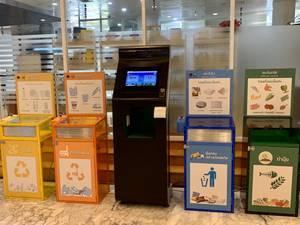 Global climate change is much discussed and more and more people are making their contribution to environmental protection. Especially countries close to the equator are already feeling the negative effects of droughts, rising temperatures and air pollution.
As part of a bachelor's thesis in Bangkok, a cooperation between FHWS and the Kin Mongkut's Institute of Technology Ladkrabang, a waste bin was equipped with artificial intelligence to provide feedback on correct waste separation. This project was made possible by PTT Digital Solutions Company Ltd. This company is part of Thailand's largest corporation PTT group, which is among the top oil & gas corporations in the world.
Using image recognition and various Deep Learning techniques, a model was created which classifies an object into 18 classes from 3 categories. As shown in the picture, the correct waste separation can be shown by scanning an object and getting direct feedback.
Who's involved?
Philipp Väth, Bachelor in Business Information Systems, spending his 7th semester in Bangkok, Thailand, to write his final thesis.
Supervised by: Prof. Dr. Frank-Michael Schleif